Whale Watching

Come join the excitement as we celebrate the return of the Gray Whales off our coast. The opportunities to get up close and personal with these giants has never been better. Sightings of whales off Dana Point are way up this year and it is common to encounter large schools of dolphin as well.
Dana Wharf Sportfishing & Whale Watching


Come aboard our brand new luxurious catamaran for a 2-hour, affordable cruise and you'll have a totally different, intimate, and unforgettable experience! The 63-foot OCean Adventure catamaran is a beautiful, NEW, state-of-the-art vessel with a full-service deli-style galley. May - October is the Blue Whale season and November - April is the Gray Whale Migration! In addition to the majestic Blue and Gray whales, we also get the chance to see Fin Whales, Humpback Whales, Killer Whales, Minke Whales, sharks, large pods of dolphin, sea lions, birds and other exciting marine life. Every trip is a new experience, so be sure to come out often! Don't forget to take advantage of 2-for-1 Tuesdays!
Captain Dave's Dolphin & Whale Safari™

Captain Dave's specially designed Sailing Catamaran will get you UP CLOSE! You can stay dry in our protected & comfortable cockpit area or venture out on the special 'Tram Net' for a really close encounter! You'll see what the dolphins and whales are doing below the surface with their 'Dolphin & Whale Cam'. You'll hear the

unique languages of the dolphins and

whales with research-quality hydrophone. And last, but not least, your invited to enjoy Mrs. Capt. Dave's famous triple fudge brownies on the ride back to the harbor.

(949) 488-2828
Newport Landing Whale Watching
Year around whale watching cruises view many varieties of whales including the giant blue whales, which attains lengths over 80 feet, several types of dolphin, seals, and huge array of other marine creatures. A recent cruise encountered a huge pod of killer whales numbering over 30 killer whales including adults and young, definitely a trip of a life time. The deep nutrient waters surrounding Newport Harbor is considered some of the most fertile waters in southern California attracting all types of marine life. Newport Landing offers multiple whale watching cruises every day, 7 days a week. Our primary whale watching ship is 65 feet in length with a large upstairs sundeck, wrap around outside seating, and indoor seating with large windows, designed just for viewing marine life.
Ocean Institute
24200 Dana Point Harbor Drive
Dana Point, Ca 92629

P.O. Box 69 Dana Point, CA 92629
(949) 496-2274
Fax: 949-248-5557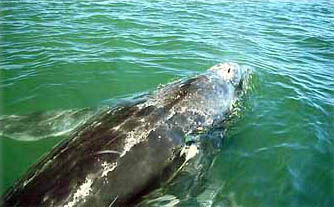 Surfacing Gray Whale
©Cliff Wassmann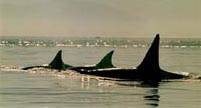 A rare sight - Orcas!