Dana Point Harbor: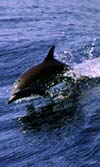 Whale Watching & Marine Environment Cruises from Dana Point are special. While many ports now host boats that offer similar trips, the easy access to the local waters makes local trips much more effective. Passengers are only five minutes away from ?Sea Lion Penthouse,? where visitors usually see a number of playful California Sea Lions. Very often, there are large schools of dolphin in the area. It is also a common
belief that Dana Point is a navigational landmark for the whales during their migration, hopefully bringing them closer to shore in these areas. Information: (949) 496-1094 or 661-7122
Dana Point Youth Group Facility (949) 661-7122
Tidepool, birdwalks, sandcastle, workshops, children's daycamps.
Doheny State Beach Interpretive Center
(949) 496-6172
25300 Dana Point Harbor Drive, The purpose of the center is to promote an appreciation for the natural history of Doheny State Beach.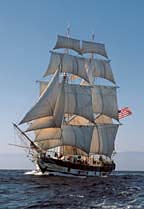 Ocean Institute - Home of the Tallship Pilgrim
(949) 496-2274
24200 Dana Point Harbor Drive, Dana Point, Seasonal Tours, Summer Theater, Living History Classes, Tallship Festival, Children's programs & gift shop