Boat Cruises and Charters of Local and Surrounding Areas
The Schooner Curlew Available for corporate events and private charters. With her rich teak decks and interior, the Curlew makes a wonderful platform to host your next special occasion. From weddings, to birthday parties, or just for fun - an afternoon aboard the Curlew can provide your group with a unique outing at sea.
Any Dana Wharf vessels are available for private charter. All of our large boats, six passenger fishing charters and specialty sail boats are available for the following: private fishing trips, private whale watching cruises, parties, burials at sea, fundraising event, and sunset cruises. We can charter a boat for your group of 1 - 149!
Captain Dave's specially designed Sailing Catamaran will get you UP CLOSE! You can stay dry in our protected & comfortable cockpit area or venture out on the special 'Tram Net' for a really close encounter! You'll see what the dolphins and whales are doing below the surface with their 'Dolphin & Whale Cam'.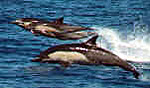 You'll hear the unique languages of the dolphins and whales with research-quality hydrophone. And last, but not least, your invited to enjoy Mrs. Capt. Dave's famous triple fudge brownies on the ride back to the harbor.
(949) 488-2828
Newport Landing - Balboa, Newport Beach
Newport Harbor in Newport Beach has a long fishing history with dozens of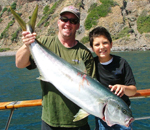 sportfishing records for numerous game fish. The waters surrounding Newport Harbor are considered some of the most fertile waters in Southern California and our ½ day trips regularly enjoy the great fishing that results with giant white sea bass (up to 50 pounds or more), huge schools of barracuda, calico bass, sand bass, and dozens more. Our 7am to 5pm day trips fish the legendary waters of Catalina Island. Hundreds of fish per trip is common. All of our captains and their crews work continuously to ensure that you have a fun and relaxing trip.