| | | |
| --- | --- | --- |
| | | |
| | San Juan Capistrano, California | |
| | | |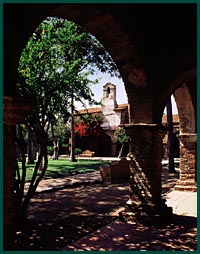 San Juan Capistrano is Orange County's oldest community. It's the birthplace of Orange County and home to its oldest traditions. It has its swallows, history, legends, storybook heroes, and beautiful archeological monuments. Most of that history is wrapped up and epitomized by our living historic landmarks, the most beautiful and best known of the California missions, old Mission San Juan Capistrano.
You can visualize Mission San Juan Capistrano as a work of art with its majestic ruins of the Great Stone Church standing in recent solitude attesting to an era long past. You can see it walking along ancient cloisters amid the time-softened beauty of old adobe buildings. Sitting in the cool shade of the padres; garden alongside an old fountain, you can look up at the bell wall with its four crusty bells hanging as silent sentinels, their bronze tongues no longer clanging to the touch of an ancient band. You can feel the serenity behind massive walls which still shut out the noisy world and preserve the peach within, encircling the patio in the tradition of a classical Greco-Roman peristyle.
Mission gardens, renown for their beauty, compliment the functional, artistic simplicity of its buildings with rich, redolent flowers. Red bougainvillea spills over a lovely arch on the main corridor, bright water lilies float languidly on the surface of an old Moorish fountain in the center of the patio. Flowering trees and shrubs brought by ships from distant gardens of the world fill the Mission in a manner reminiscent of the famous gardens of Spain. Those brooding ruins, those shaded walls, those time-worn pathways and brightly colored gardens are what made Mission San Juan Capistrano the most often portrayed structure in America, painted by artists the world over.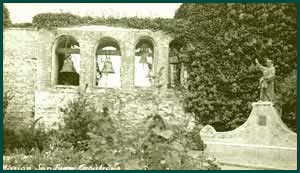 But it was not just the allure of the Mission itself which brought them. They were encouraged by its pastor, Father St. John O'Sullivan. When Fr. O'Sullivan arrived in 1910, dying of tuberculosis, he felt a great empathy with the ruined, decaying old Mission and likened it to the state of his own frail body. In the time left to him, he was determined to restore the Mission to its former grandeur and bring about a glory in its gardens which would rival those of the famed Alhambra in Spain.
A lover of beauty and art, Fr. O'Sullivan sought to share it and immortalize the Mission as a precious glimpse of a glorious past by inviting artists to come to the Mission and paint. He was much enamored of the Impressionist, or "plein-air" style, prevalent in California at that time. It was a style all about light and color and the natural beauty of the open air. It had been the warm, open air living of California that brought Fr. O'Sullivan, for reasons of health, to Capistrano. It worked. Love of his work, healthful climate and the Grace of God enabled him to live until 1933.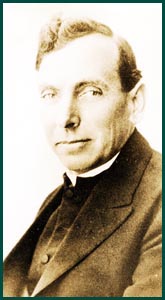 During his tenure, Fr. O'Sullivan's hospitability and the Mission's beauty brought famous and aspiring painters from all over the world. Joseph Kleitsch, noted Belgian portraitist, stayed at the Mission and the nearby Laguna art colony and painted brilliant color scenes in Mission gardens. (He also did a portrait of O'Sullivan.)
John Gutzon-Borglum, best known for his Mt. Rushmore sculpture, painted the Mission in its decay, while his then better-known wife, Elizabeth, captured the beauty of its graceful arches. Colin Campbell Cooper painted there in 1916, sold some works, and gave one to Fr. O'Sullivan. Fannie Duval painted a beautiful emotional scene of little girls in while First Communion dresses skipping through the cloisters on the way to chapel.
Artist Charles Percy Austin often stayed at the Mission. He gave several paintings to the Mission, most notable was one of silent screen star Mary Pickford's wedding (her first) after Fr. O'Sullivan performed the marriage rites. Austin also did the illustrations for "Little Chapters" (1912), the story of Mission San Juan Capistrano, written by O'Sullivan. Other artists who enjoyed Mission hospitality were Franz Bischoff, Alson Clark, William Wendt, and many more.
By: Gerald J. Miller, Mission Administrator
For more information on the mission and its history, visit the official site at www.missionsjc.com
Important San Juan Capistrano Numbers All area codes 949 unless noted


| | |
| --- | --- |
| Fire | 744-0400 |
| Police | 770-6011 |
| Adobe Medical Group | 487-2323 |
| Chamber of Commerce(SJC) | 493-4700 |
| Library | 493-1752 |
| Electric | 800-655-4555 |
| Gas | 800-427-2200 |
| Telephone | 800-310-2355 |
| Water | 493-1515 |
| Cable(cox) | 720-2020 |
| Trash | 240-0446 |
The County of Orange




Click here!