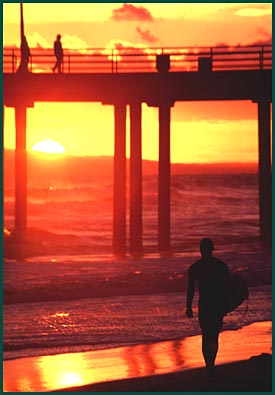 Many have heard the name, Ole Hanson, but who was this early California pioneer that founded the City of San Clemente? The following is a brief history of the man that built San Clemente.
Chosen as arbitrator in a large land dispute in Mexico City, he was given a one-half interest in 52,000 acres of oil land there. He left Mexico City for the States worth half a million dollars. While in Mexico, he envisioned Southern California in a new perspective.
Ole Hanson had first discovered the San Clemente area years before on a train trip between Los Angeles and San Diego. He had even paid a deposit to John Forster for Capistrano Beach, but later changed his mind. Therefore, when his friend, Hamilton Cotton, approached him in 1925 with the proposition from the syndicate he headed that was purchasing what later became San Clemente, Ole Hanson knew this was the "dream site" for his Spanish Village by the Sea. He became the largest holder in the syndicate, then the owner of the 2,000 acres which he named ~San Clemente.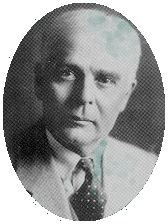 "I vision a place where people can live together more pleasantly than any other place in America.... the whole picture is very clear before me.... I can see hundreds of white-walled homes bonneted with red tile, with trees, shrubs, hedges of hibiscus, palms and geraniums lining the drives, and a profusion of flowers framing the patios and gardens... I want plazas, playgrounds, schools, clubs, swimming pools, a golf course, a fishing pier and a beach enlivened by people getting a healthy joy out of their life... I do not want people repulsed and sent away by ugliness in other communities... I have a clean canvas and I am determined to paint a clean picture."
He wagered all of his financial resources on his dream city. He built a hospital, a community clubhouse, pier, a golf course, beach club with Olympic size pool, parks, tennis courts, a baseball diamond and stands as winter quarters for a Seattle ball team, bridle trails, a school, and a church. He built his own home, now called the Casa Romantica, and lived there with his family for approximately five years. When the City was incorporated in 1928, Ole Hanson was selected as the first mayor, but declined in favor of Thomas Murphine. Hanson remained as a city councilman.
He died at age 66. He left a great legacy - a still beautiful village by the sea. We enjoy to this day many of the things he put here for the citizens of San Clemente. Two of his children, Muriel, and Lloyd, are still living and remember how life was in early San Clemente.
Resource: San Clemente Historical Society
Maps
Local Maps - Click to get local maps and directions.


Photos
Click Here for a photo tour of San Clemente (coming soon)
Important San Clemente Numbers All area codes 949 unless noted

| | |
| --- | --- |
| Fire | 538-3501 |
| Police | 288-6742 |
| San Clemente Hospital | 496-1122 |
| Chamber of Commerce(SC) | 492-1131 |
| Library | 492-3493 |
| Electric | 800-655-4555 |
| Gas | 800-427-2200 |
| Telephone | 800-310-2355 |
| South Coast Water District | 361-8315 |
| Cable(cox) | 720-2020 |
| Trash | 240-0446 or 714-558-7761 |